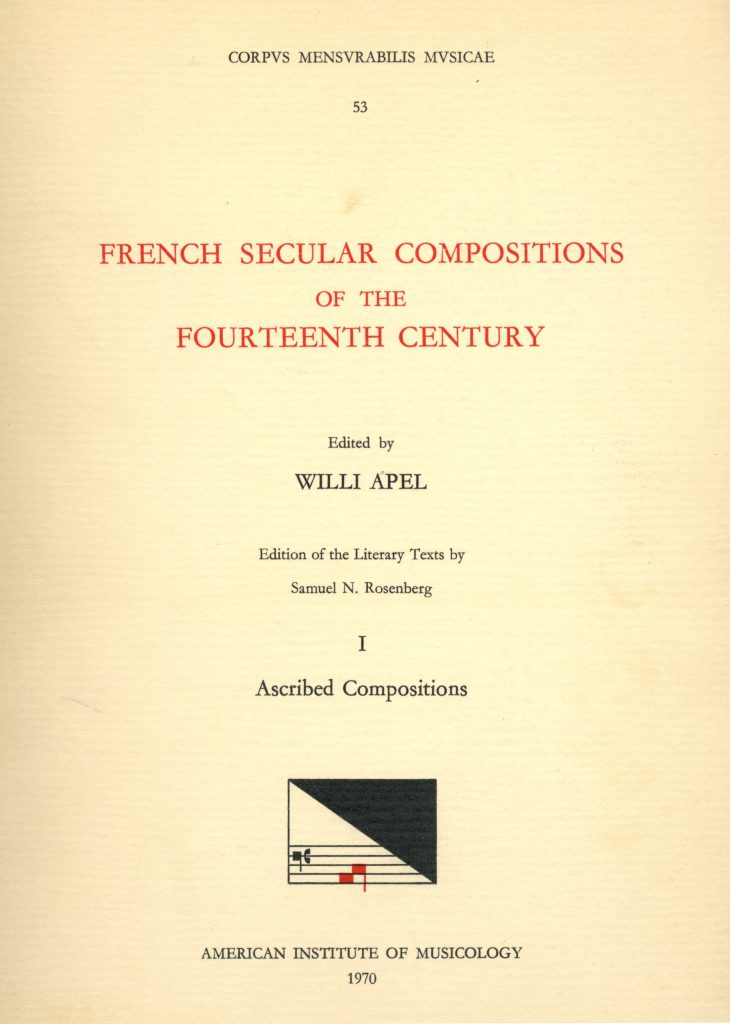 Edited by Willi Apel
Edition of the Literary Texts by Samuel N. Rosenberg
(Series: Corpus Mensurabilis Musicae, 53 [3 volumes])
Dallas and Rome: American Institute of Musicology, 1970
lxxv + 230 pages
Paperback: ISBN-10 1595511474 (for 3-volume set)
Paperback: ISBN-13 978-1595511478 (for 3-volume set)
The three volumes of Willi Apel's major work contain the entire repertory of 14th-century French secular polyphony, with only two exceptions: the works of Machaut and the compositions in the codex Torino. Vol. I presents 118 ascribed compositions.
Contents
Foreword
List of Compositions
[The website of the American Institute of Musicology provides a listing of the compositions in this volume: http://www.corpusmusicae.com/cmm/cmm_cc053.htm ]
Index of Text Incipits
Introduction

A. General Outline
B. The Main Sources
C. The Composers
D. The Forms
E. The Notation
F. The Development of Style
G. Notes on Performances
H. Editorial Remarks

Bibliography
Abbreviations
Sources
Commentary
Guide to Pronunciation
Texts
Music